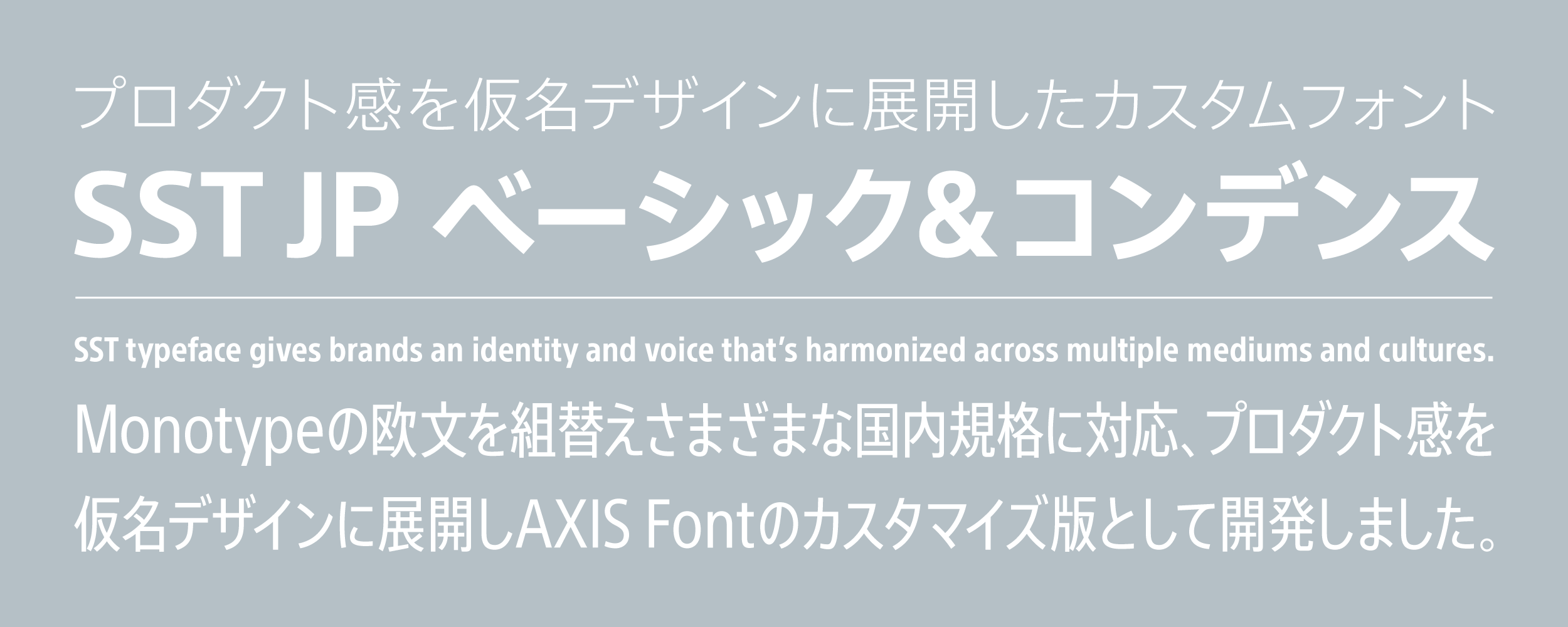 Overview
SST is a corporate font that was developed jointly by Sony Corporation and Monotype. Type Project, on receiving a commission from Monotype, developed the Japanese typeface SST JP. Sony's "product qualities" are extended to and recreated in the kana character design, while AXIS Font is employed for the kanji character parts. SST JP is intended to be used for Sony products packaging, advertising, Web fonts and signage, as well as for device displays, and is available in six weights, including UL (Ultra Light), L (Light), R (Regular) and B (Bold) for the Basic font, and R (Regular) and B (Bold) for the Condensed font.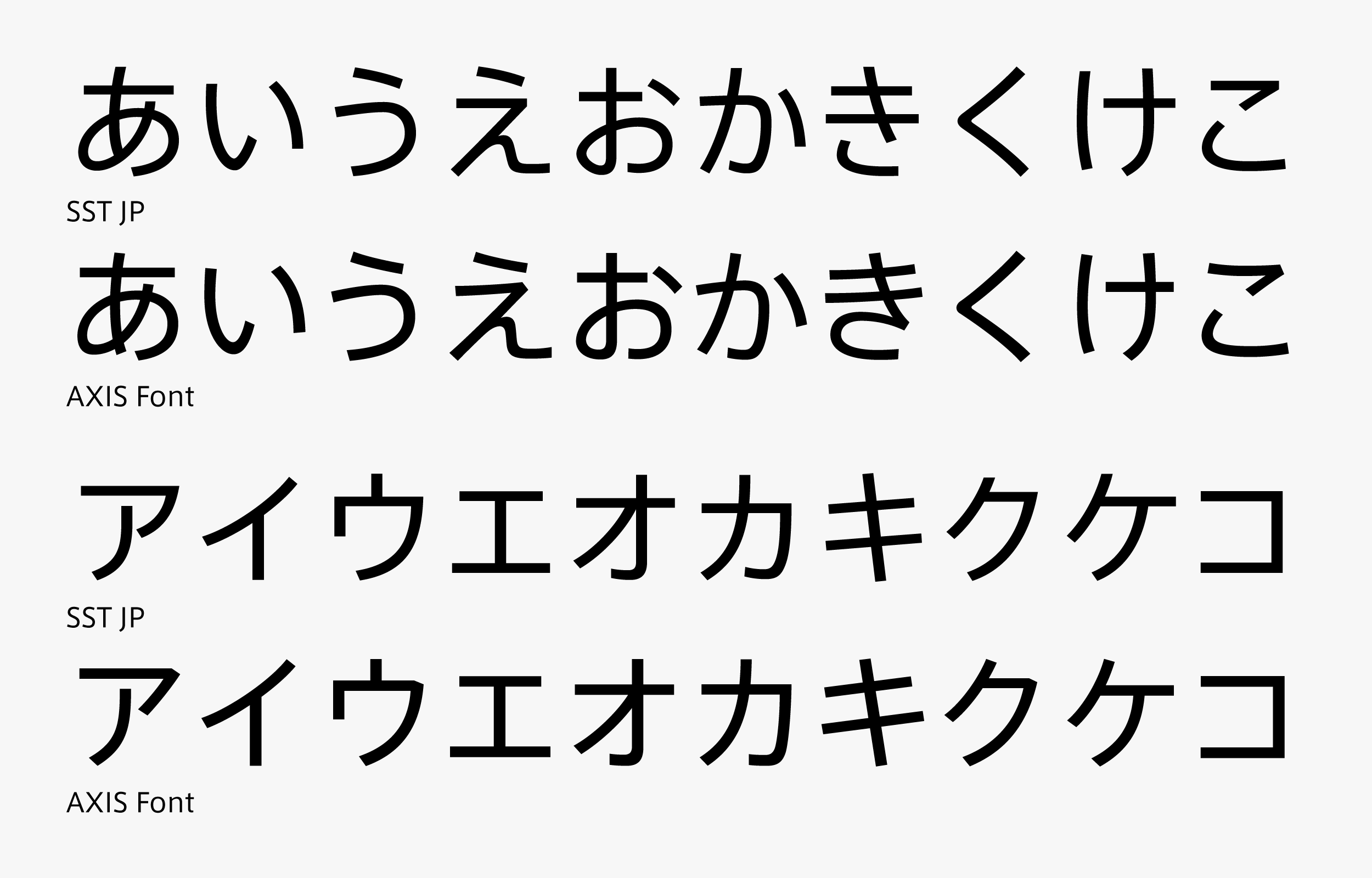 Features
SST is used for Sony product packaging and business cards, as well as for envelopes, presentations, and the company name in Japanese writing and signage. Also available is ARIB Font, which conforms to the ARIB STD-B24 and ARIB TR-B14 standards established by the Association of Radio Industries and Businesses. (ARIB is not included in marketing packages, however.)
With SST JP, Type Project also handled the recomposition engineering of Monotype-produced Latin typefaces for use with Japanese typefaces. The SST Font family can now be found not only on Sony's corporate website, but on websites from more than one hundred countries around the world.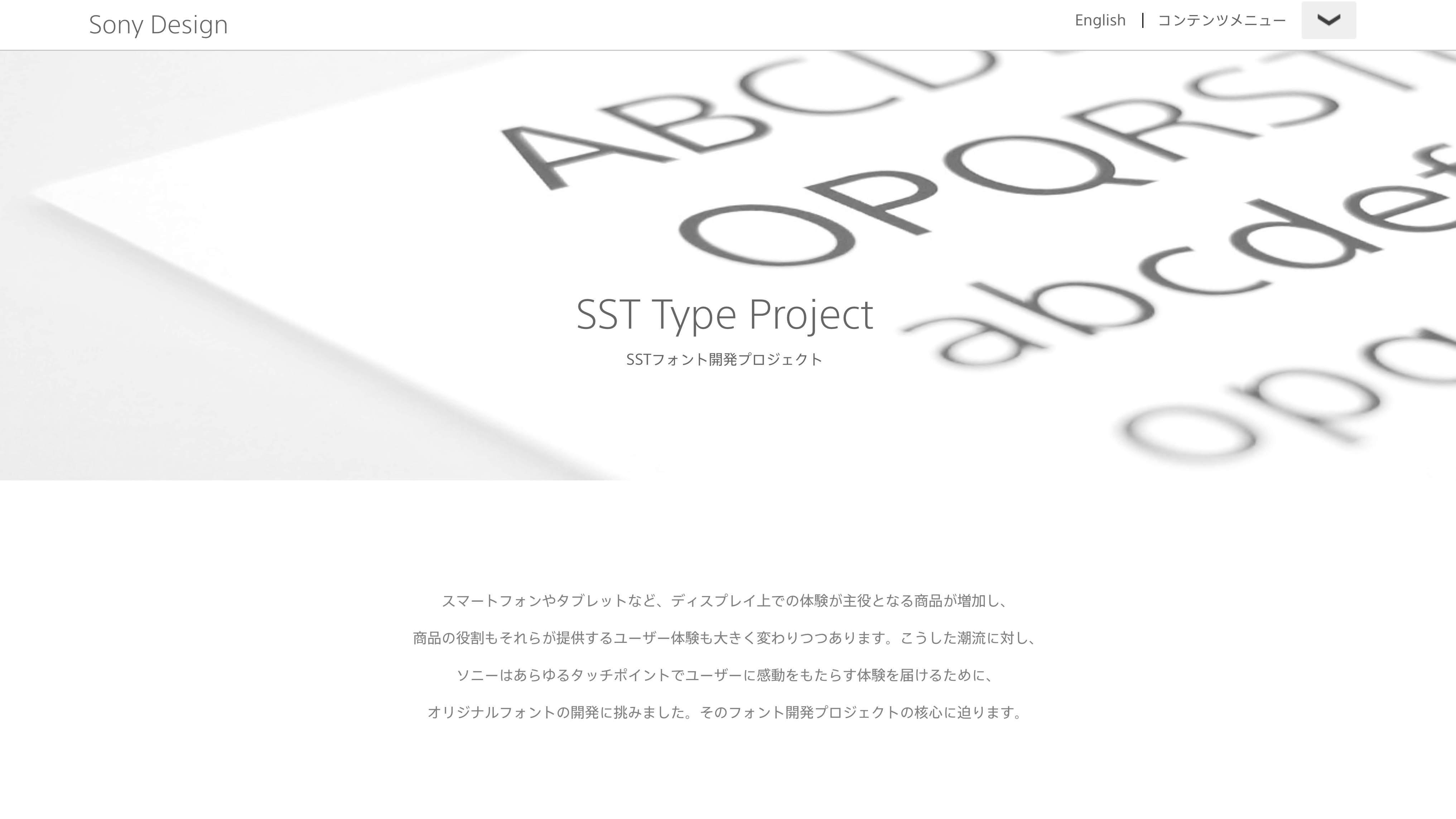 Sony Design Website
Family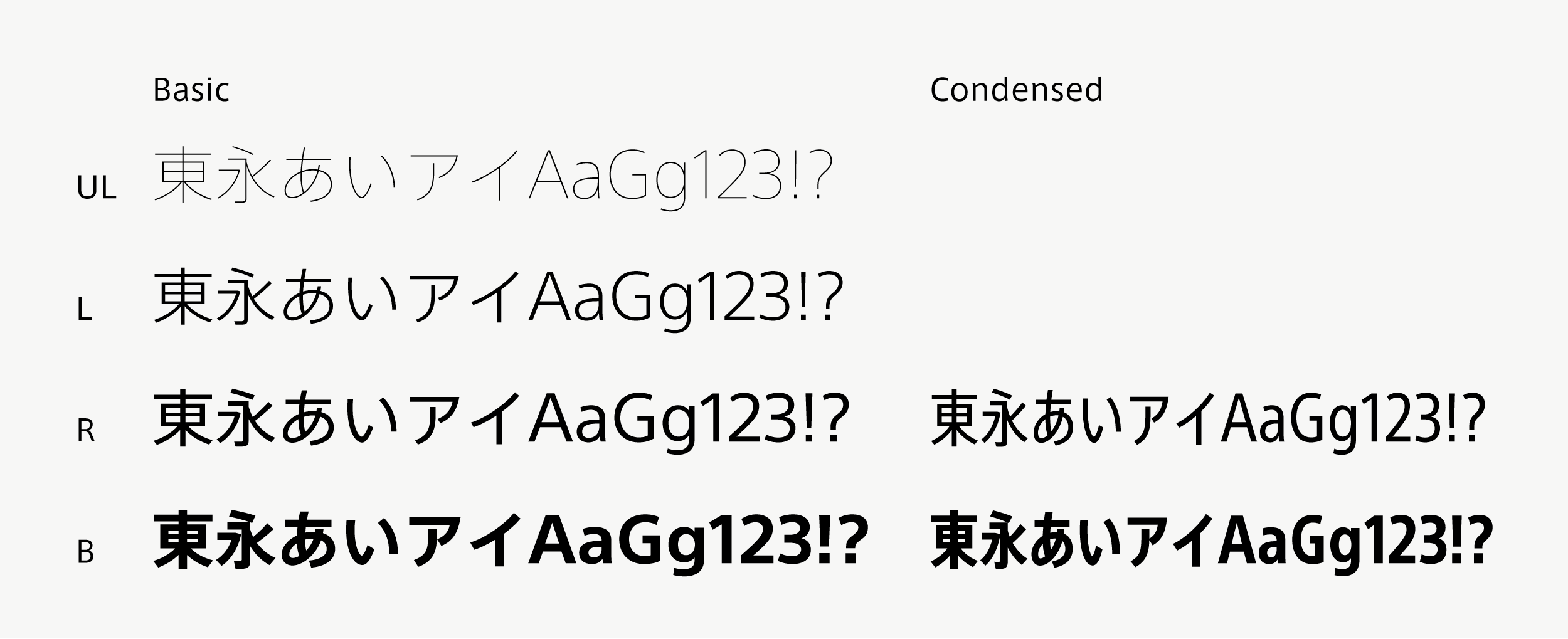 Specifications
Main feature
OpenType font
Cross platform
Extractable outlines
PDF embedded
Kerning information
Dynamic download
No resolution restrictions

Supported operating system
Mac
macOS

Windows
Windows 10(Japanese version)

Font set
Pro
15,444 characters (Adobe-Japan1-4)
Languages
Japanese font (Std/StdN) almost fully covers 30 languages shown below. Japanese font based on Adobe Japan 1.3 covers all ISO-8859-1 proportional characters and Š, š, Ž, ž, Œ, œ, Ÿ. Then AXIS Font Japanese version can be used as multilingual font when you compose text using proportional characters. However, not all corresponding half-width characters are included, only Latin font is covered by half-width characters.

Japanese (main script and covers JIS X 0208:1997) / English/ Icelandic (íslenska) / Irish (Gaelige) / Afrikaans (Afrikaans) / Albanian (Gjuha Shqipe) / Italian (Italiano) / Indonesian (Bahasa Indonesia) / Estonian (Eesti keel) / Occitan (lenga d'òc) / Dutch (Nederlands : U+0132 "IJ" and U+0133 "ij" shall be divided into I/i and J/j) / Oromo (Oromiffa) / Galician (Galego) / Swedish (Svenska) / Scottish Gaelic (Gàidhlig) / Spanish (Español) / Swahili (Kiswahili) / Danish (Dansk) / German (Deutsch) / Norwegian (Bokmål) / Norwegian (Nynorsk) / Finnish (Suomi) / Faroese (Føroyskt) / French (Française) / Brasilian Portuguese (Português Brasileiro) / Breton (Brezhoneg) / Portuguese (Português) / Latin (Latina : Classical orthography, without vowels with macron) / Luxembourg (Lëtzebuergesch) / Rhaeto-Romance languages (Rhaetian) / Walon (Walloon)

*Full width version of Greek uppercase/lowercase (24 characters for each, excluding ending form of sigma) and Cyrillic (Russian) uppercase/lowercase (33 characters for each) are included as JIS Row6 and Row 7 (These characters are defined as full width in JIS spec)