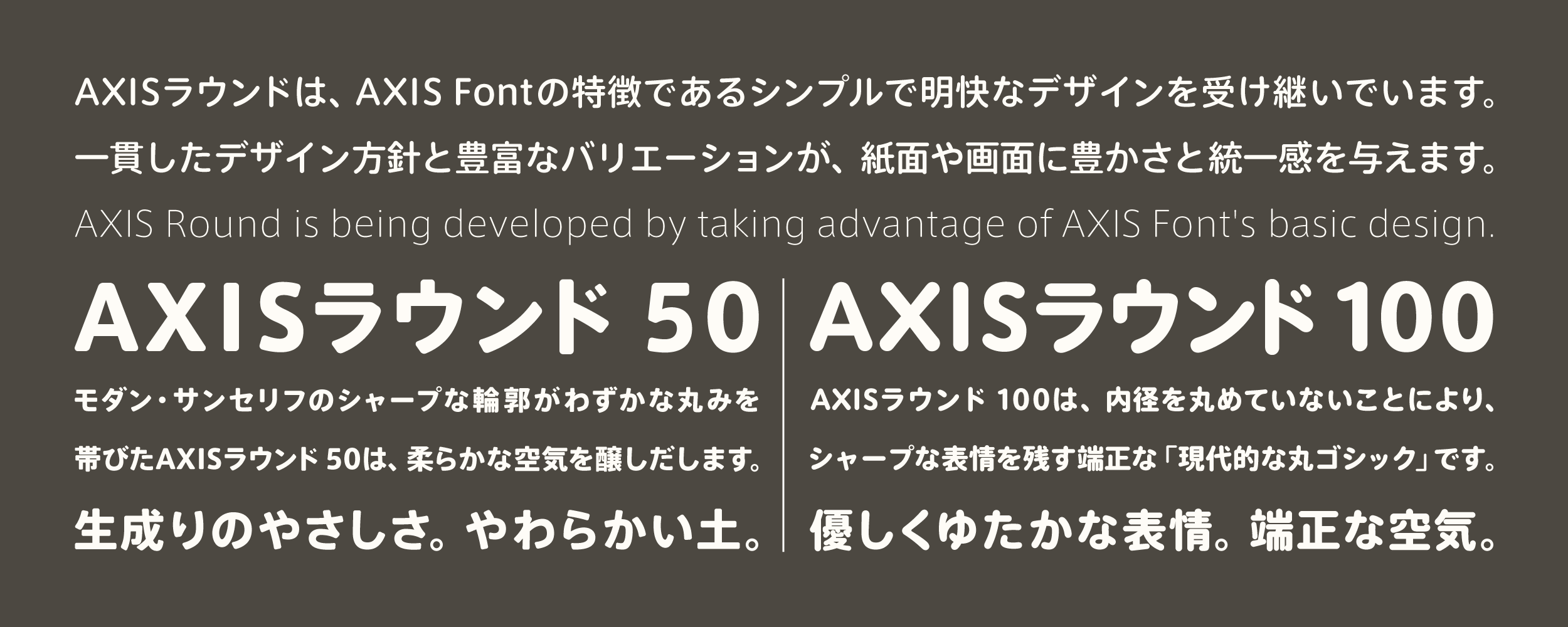 Overview
AXIS Round has been developed to further enrich the world of expressive possibilities already experienced by users of AXIS Font. This font is available in seven weights – UL (Ultra Light), EL (Extra Light), L (Light), R (Regular), M (Medium), B (Bold) and H (Heavy) – each of which has a corresponding weight in AXIS Font Basic. With its sharp AXIS Font contours given a subtle rounding, AXIS Round 50 retains the crisp feeling of the modern sans-serif while generating a soft and airy quality. AXIS Round 100 is a "contemporary round Gothic" that is both approachable and possessed of a sense of being neatly attired. As the inside diameter has not been rounded in the manner of most round Gothics, the sharp expressiveness of the modern sans-serif remains.
Though members of the AXIS Font family, which is characterized by its neutral feel, AXIS Round Condensed and Compressed are fonts with particularly distinctive traits. As pioneering members of a family of narrow Japanese typefaces, AXIS Font Condensed and Compressed each have basic settings for a build that is suited to narrow type, resulting in characters are striking while also exuding a pleasantly natural rhythm. The features of excellent readability and spatial efficiency, which were designed into AXIS Font Condensed and led to its widespread adoption for signage systems and the like, have been supplemented with the attribute of familiarity. An even greater range of usage is therefore anticipated for these fonts.
Concept
AXIS Round inherits the simple, crisp design that is AXIS Font's trademark. With its inimitable sense of crispness, AXIS Font has been adopted for architectural use, consumer product creation and numerous other fields. On the other hand, for food and clothing goods, and other situations that call for a softness of expression, it has been necessary to try to adjust AXIS Font in various ways, by taking the time to smooth down its angles, or by applying various software functions so as to generate a quasi-round font. Working with such methods often proves difficult, however, and mechanically-produced transformations do not always yield the envisioned result. AXIS Round has been created with this in mind, in hopes of answering the need for "another AXIS Font".
AXIS Round is being developed by taking advantage of AXIS Font's basic design, in which the horizontal strokes of the hiragana characters are kept as horizontal or close to horizontal as possible. With its superbly stable feel in Latin text situations and horizontal layouts, it is highly suited for combinations with other rounded Latin fonts as well. The consistent design identity and exceptional range of the AXIS Font family is ideal for achieving a sense of unity in both print and screen media.
Features
AXIS Round 50, with its slight curvature and calm expressiveness, and Round 100, whose stroke tips are almost semicircular. With the addition of the Round series to the simple and human-feeling AXIS Font family, more avenues of expression are available than ever before.
Round 50
When AXIS Round 50's Ultra Light and Extra Light are used for large-character titles and advertising headlines, the effect of the softly rounded corners is clear. Using Light and Regular in 20 point or higher imparts a calm atmosphere. Medium and higher weights enable clear expressions of an even calmer appearance, and with Bold and Heavy in particular, the distinctively tranquil tones of AXIS Round 50 come to the fore.
Although AXIS Round 50 is named for its rounding of the half-tips of AXIS Font's strokes using the diameter of a perfect circle, in actuality the roundness is a percentage set by visual adjustment for each weight. For example, Heavy and Bold are adjusted to 50%, Medium and Regular to 55%, and Light, Extra Light and Ultra Light to 60%. Moreover, in parts that take on a pointed look within a perfect circle, flatness has been applied to bring out a feeling of stability.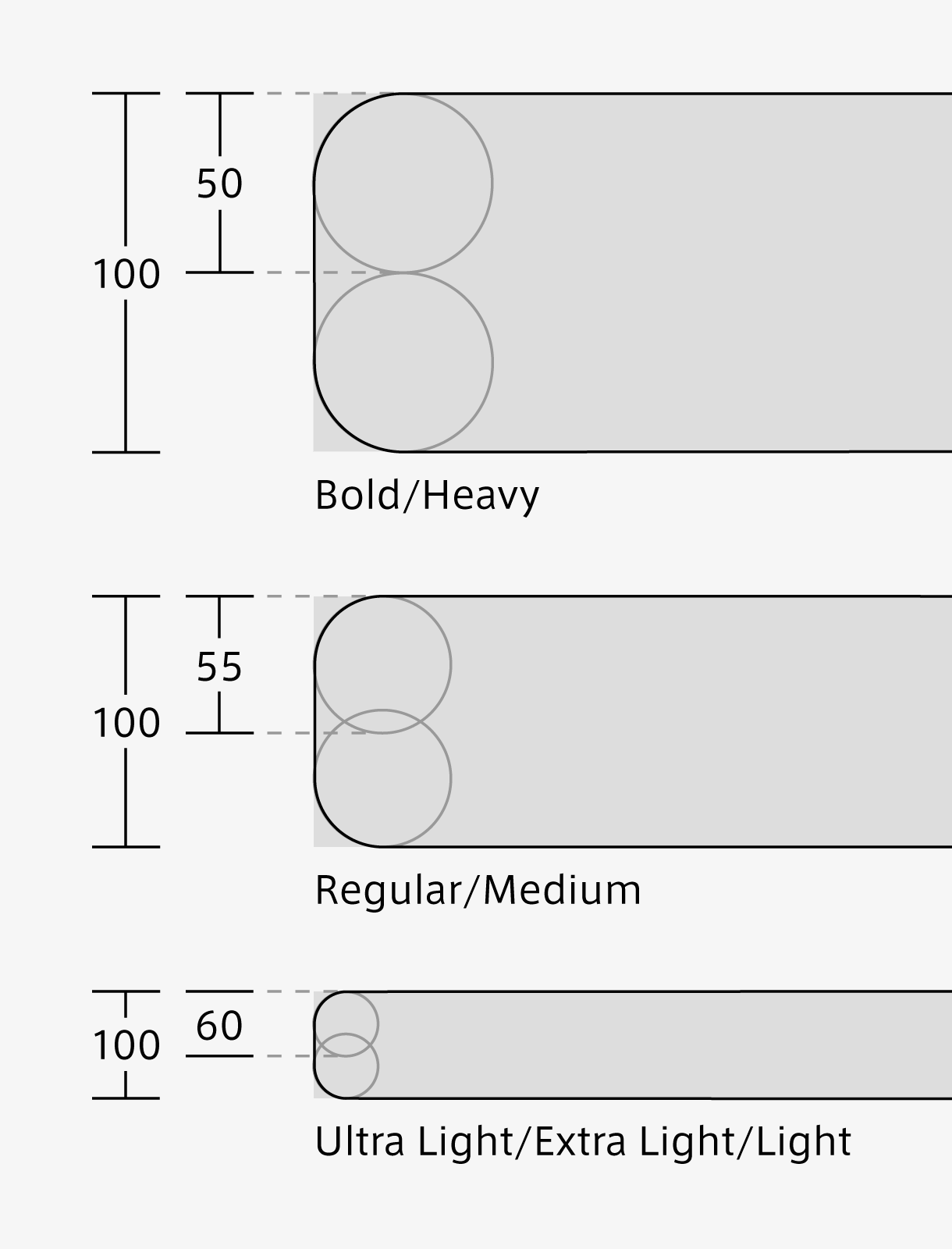 Visual adjustment for each weight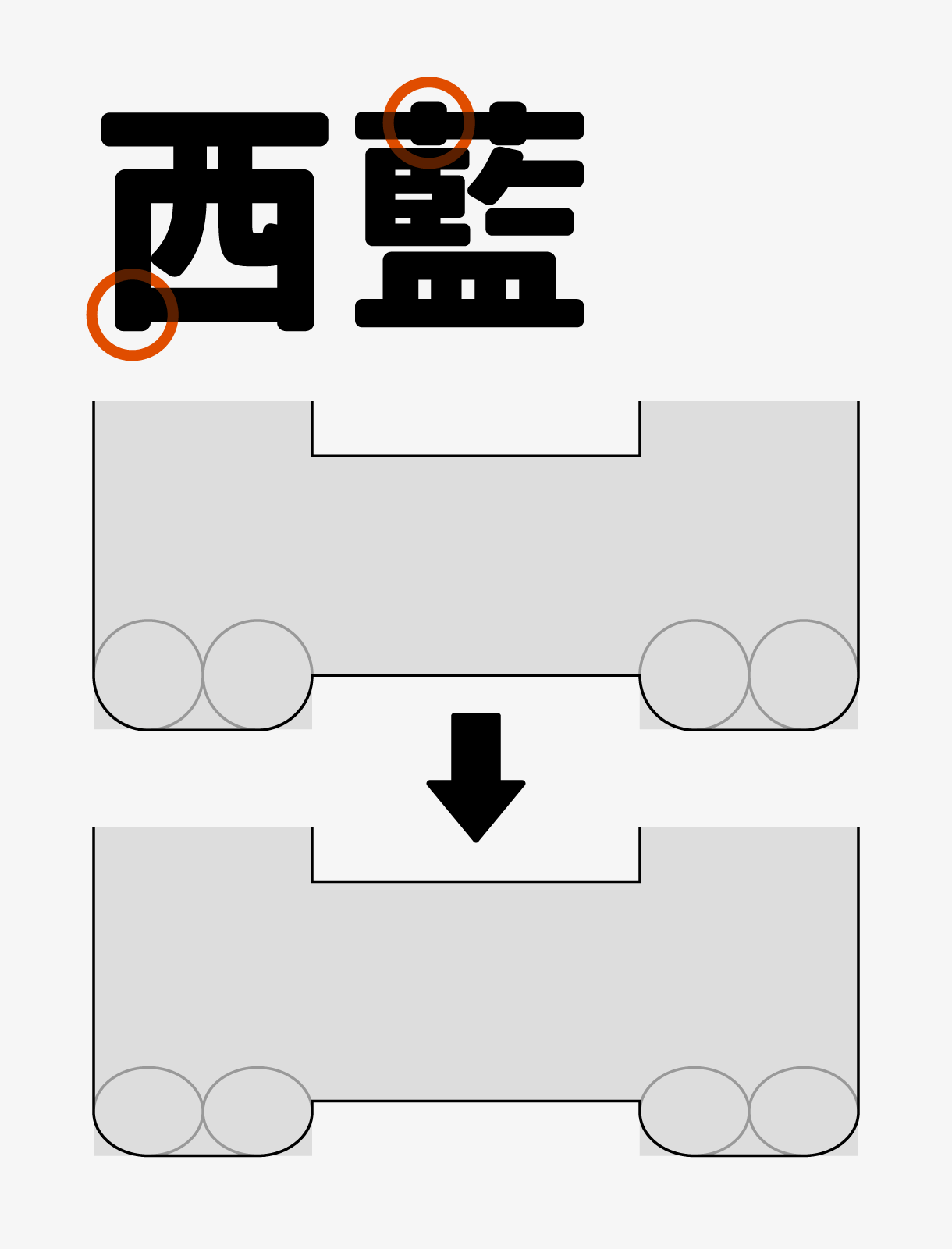 Perfect circle and flatness
Round 100
AXIS Round 100 Ultra Light and Extra Light impart a moderate softness in both print and screen situations. Light and Regular, with their sharp inside diameters and round outside diameters, demonstrate a refreshing harmony and produce novel visual effects. Unlike AXIS Font, which shows its personality at thinner weights, AXIS Round is particularly effective at the thicker weights of Bold and Heavy.
For AXIS Round 100, the tips of the strokes are based on the diameter of a perfect circle, and fine adjustments are being made – for example, lengthening the stroke in parts where the rounding has created the impression of smallness, and reducing unevenness in kanji characters to obtain smoother shapes. In addition, the kana characters are being designed to appear visually circular without the use of a perfect circle for the stroke tips.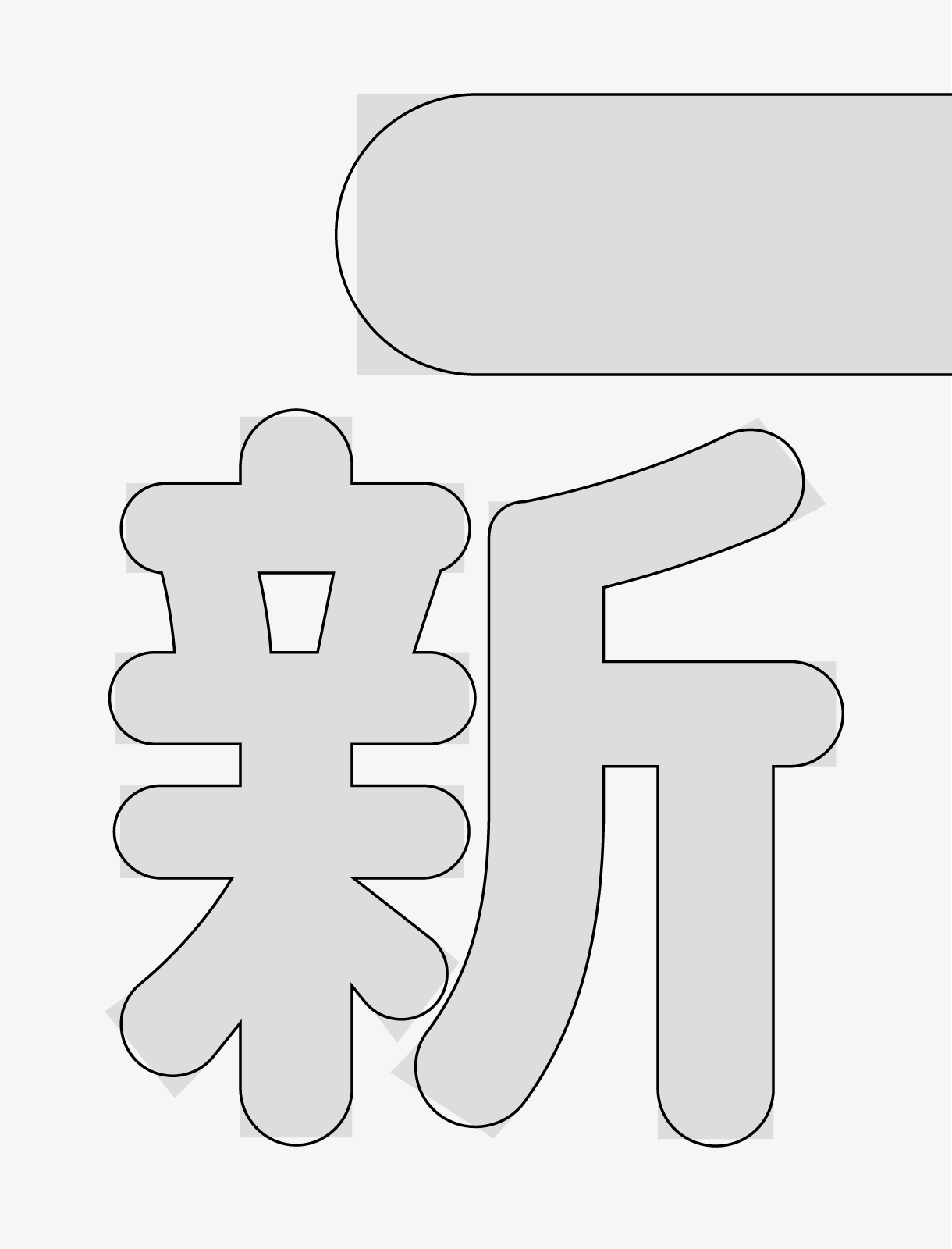 Lengthening the stroke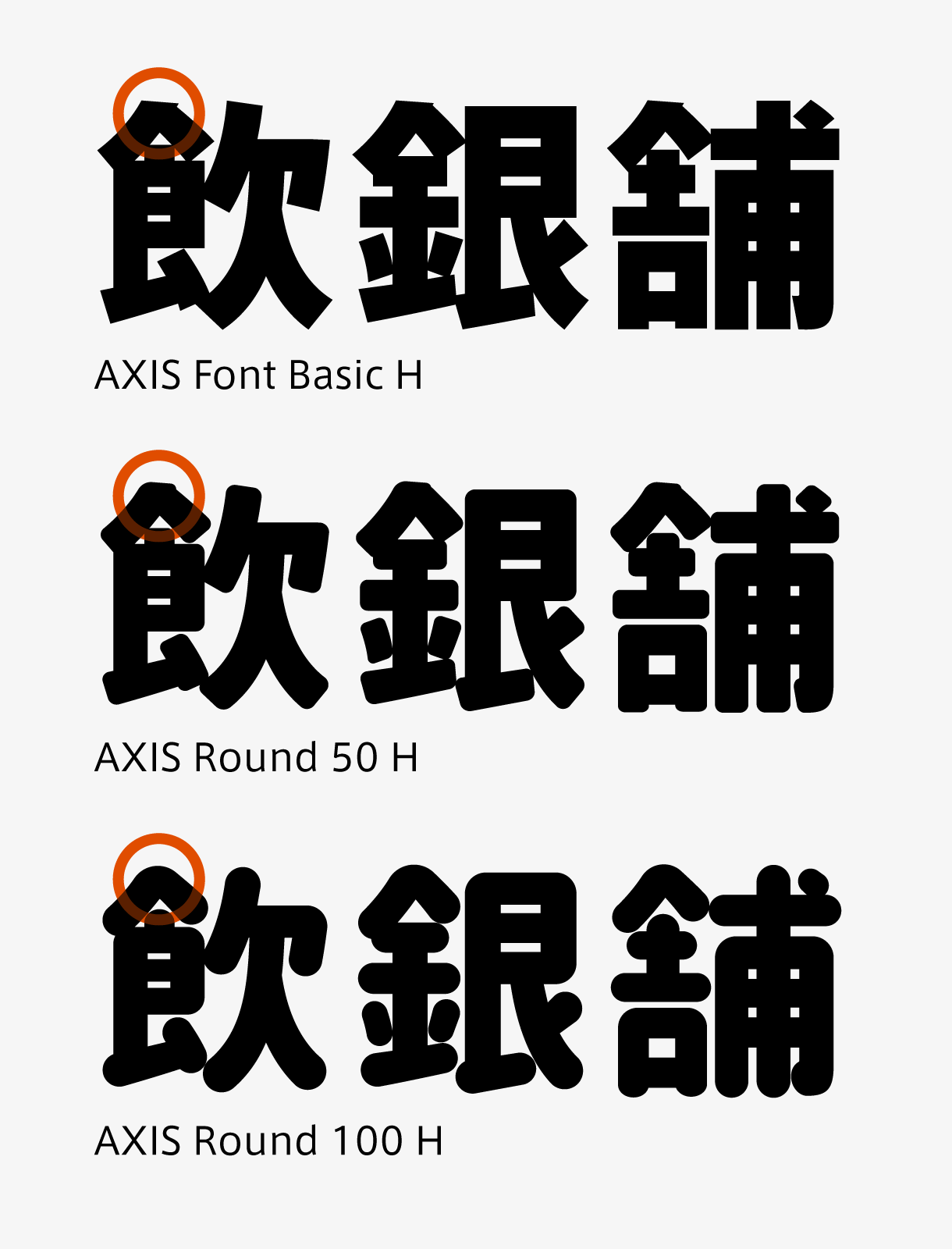 Reducing unevenness in kanji characters
Family
AXIS Round 50 presents a soft mood, while AXIS Round 100 shows its effectiveness with headlines and the like. Each has a Condensed typeface with narrow kanji characters designed at 80% basic font width and kana characters at 76%, and a Compressed typeface with kanji set at 60% and kana at 50%.
Condensed is available in six weights – UL (Ultra Light), EL (Extra Light), L (Light), R (Regular), M (Medium) and B (Bold), and Compressed is available in five weights – UL (Ultra Light), EL (Extra Light), L (Light), R (Regular) and M (Medium).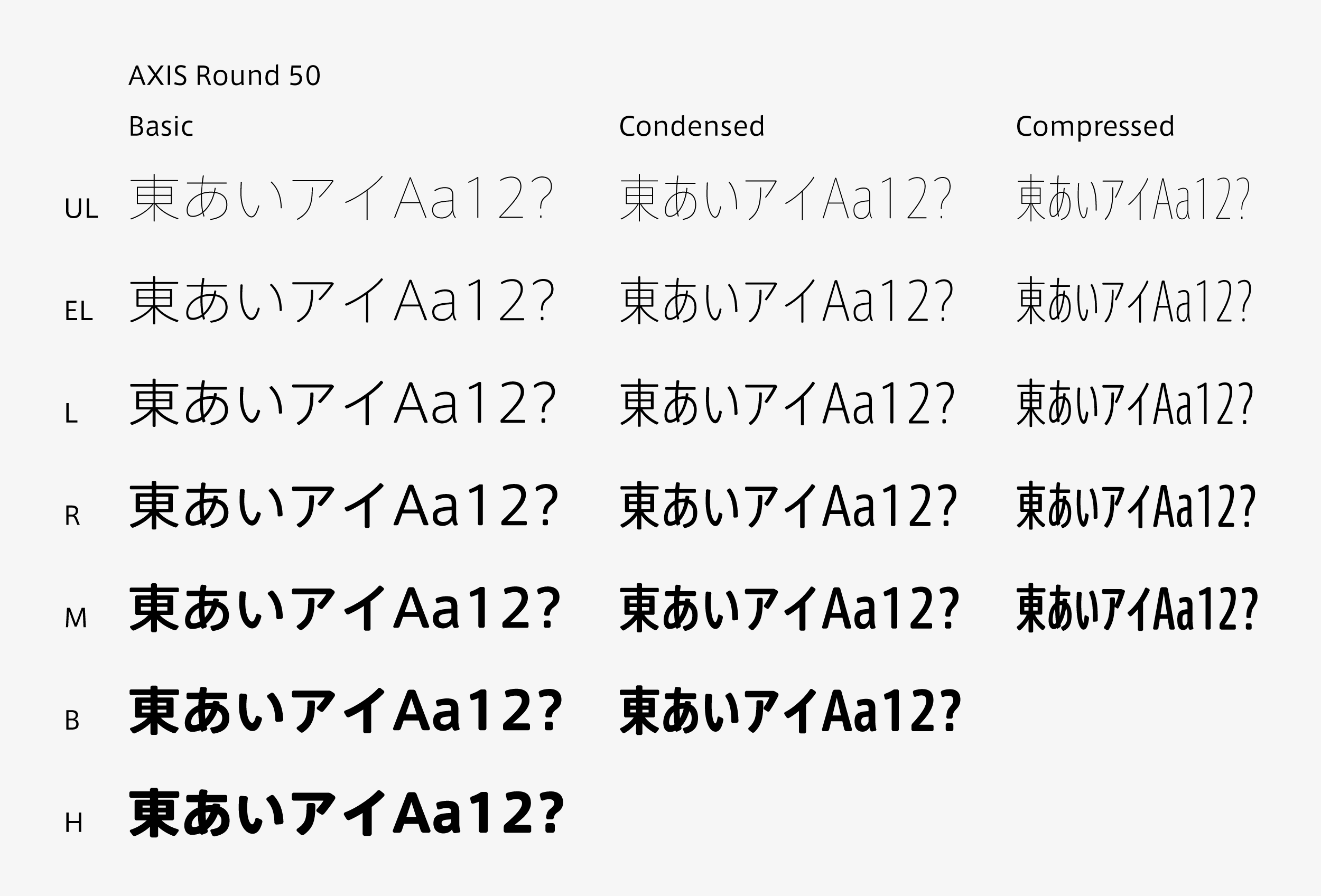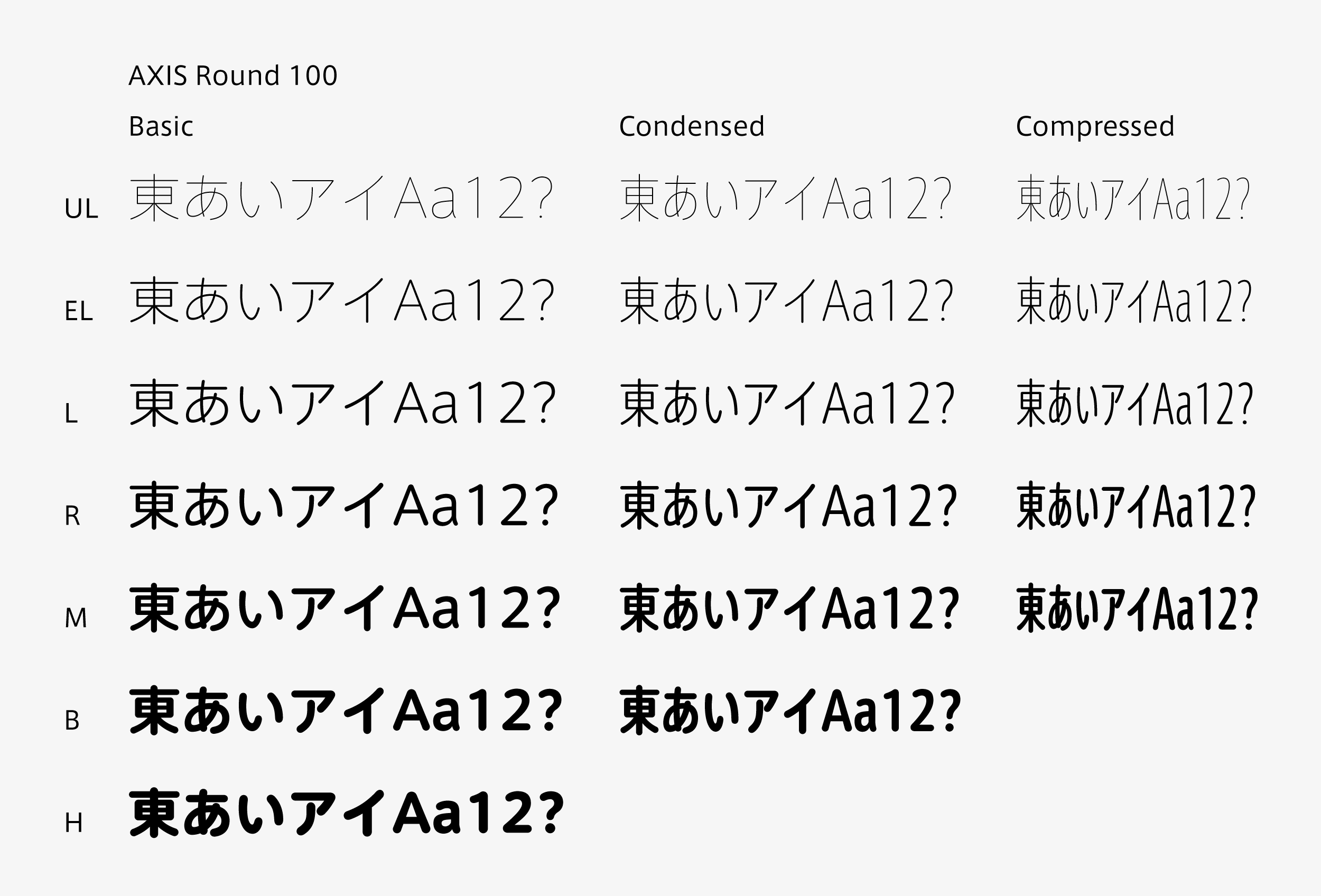 Specifications
Main feature
OpenType font
Cross platform
Extractable outlines
PDF embedded
Kerning information
Dynamic download
No resolution restrictions

Supported operating system
Mac
macOS

Windows
Windows 10(Japanese version)

Font set
Standard(StdN)
9,498 characters (Adobe-Japan1-3)
Languages
Japanese font (Std/StdN) almost fully covers 30 languages shown below. Japanese font based on Adobe Japan 1.3 covers all ISO-8859-1 proportional characters and Š, š, Ž, ž, Œ, œ, Ÿ. Then AXIS Font Japanese version can be used as multilingual font when you compose text using proportional characters. However, not all corresponding half-width characters are included, only Latin font is covered by half-width characters.

Japanese (main script and covers JIS X 0208:1997) / English/ Icelandic (íslenska) / Irish (Gaelige) / Afrikaans (Afrikaans) / Albanian (Gjuha Shqipe) / Italian (Italiano) / Indonesian (Bahasa Indonesia) / Estonian (Eesti keel) / Occitan (lenga d'òc) / Dutch (Nederlands : U+0132 "IJ" and U+0133 "ij" shall be divided into I/i and J/j) / Oromo (Oromiffa) / Galician (Galego) / Swedish (Svenska) / Scottish Gaelic (Gàidhlig) / Spanish (Español) / Swahili (Kiswahili) / Danish (Dansk) / German (Deutsch) / Norwegian (Bokmål) / Norwegian (Nynorsk) / Finnish (Suomi) / Faroese (Føroyskt) / French (Française) / Brasilian Portuguese (Português Brasileiro) / Breton (Brezhoneg) / Portuguese (Português) / Latin (Latina : Classical orthography, without vowels with macron) / Luxembourg (Lëtzebuergesch) / Rhaeto-Romance languages (Rhaetian) / Walon (Walloon)

*Full width version of Greek uppercase/lowercase (24 characters for each, excluding ending form of sigma) and Cyrillic (Russian) uppercase/lowercase (33 characters for each) are included as JIS Row6 and Row 7 (These characters are defined as full width in JIS spec)