Today, I would like to introduce "Creation of Typefaces: Anthology of Takao Hayashi Typefaces."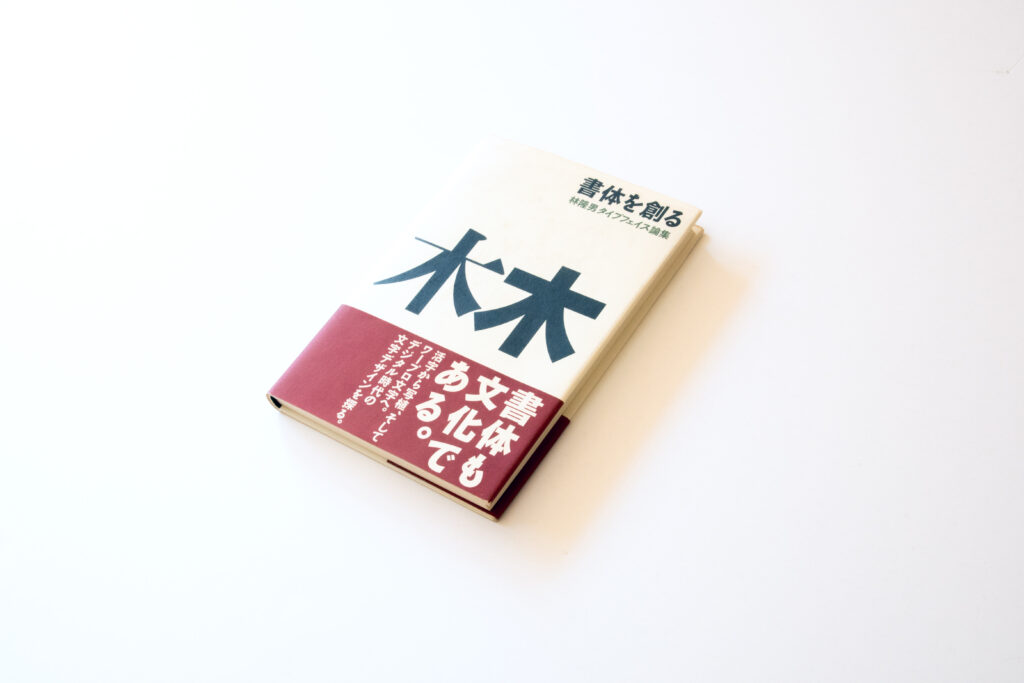 This is a book published in memory of Takao Hayashi, the founder of TypeBank. This book consists of typeface-related essays and interviews contributed to magazines, etc. by Mr. Hayashi, and texts submitted to Mr. Hayashi from various people, including designers with a close relationship to him.
This anthology includes a lot of topics: basic information about fonts, protection of typefaces, and perspectives from the aspect of design, as well as digital font quality from based on output, such as printing, etc., and techniques of typeface creation are covered. The items described take the perspective of designer-as-director for what kind of typefaces should be created, and the point is repeatedly written regarding the necessity of typefaces that can endure for a long period of time. Texts submitted to Mr. Hayashi demonstrate his strict view and attitude towards characters. In the chapter for the protection of typeface as a written thing, I learned about the aspect of his efforts to freely distribute quality typefaces without them being dismissed and ignored as written things. To think about what the characters that contribute to the user's side and how people's lives ought to be, all of the book's information leads to the present day. I realized that this book is written for readers engaged with characters at present.
Related to "Creation of Typefaces: Anthology of Takao Hayashi Typefaces," here's a comment from Mr. Suzuki of our company regarding the selected book.
From the beginning of my career as a typeface designer, I felt that the ability to conduct direction of typeface is rarer than the ability to design typeface. There are many things that cannot be realized without actually creating typeface, but the difficulty in producing and making a successful typeface is in another dimension. When I began vaguely thinking about the necessity to cultivate an ability to draw a large sketch or take an overlooking view of typeface design, I found out about Takao Hayashi.
By reading both "Creation of Typefaces" and "Shintaro Ajioka's Typeface Course," the tasks in creating Japanese typeface can be rechecked.
As we all know, Shintaro Ajioka is a designer for kana typeface called "Ryokan and Komachi." His is a rare existence, as a designer who can connect book and typeface design, and discuss the design concepts in his own words. His way of thinking is condensed in this book.
Book Information:
"Creation of Typefaces: Anthology of Takao Hayashi"
Author: Takao Hayashi
Publisher: JustSystems Corporation
Purchase Information:
https://www.kosho.or.jp/products/detail.php?product_id=155009355
The book is out of stock, but the used book can be purchased.
Book Information:
"Shintaro Ajioka's Typeface Course"
Author: Shintaro Ajioka
Publisher: Haru Natsu Aki Fuyu Sousho
Purchase Information:
http://www.h-n-a-f.com/book-etc/syotaikouza2018.html

(RK)